Films I've Financed or Produced
A heartfelt comedy about a plain young Greek-American woman who struggles to break away from her large, loving and highly controlling family, so she can go to college and maybe, just maybe, meet and marry a nice American fellow. Over severe family objections, she stops working at their Greek restaurant, starts to work out (and lose weight), plucks her unruly eyebrows, and generally "Americanizes." She's thrilled with the results, even if her relatives aren't. Then she meets a great guy - not Greek - and the real battle begins. Written by: Nia Vardalos. Directed by: Joel Zwick. Starring: Nia Vardalos, John Corbett, Gia Carides and Lainie Kazan. Green-lit by Mr. Kronemyer at a time when no other executive or distributor in town believed in the property, "Greek Wedding" is one of the most successful independently-produced films ever, with a domestic theatrical box office gross in excess of $234 million. Using a co-financing deal structure devised by Mr. Kronemyer, HBO paid 35% of the domestic theatrical box office gross in consideration for North American television and video rights, or, another $82 million. It took top honors as the video sell-through title of the year at the Video Software Dealers Association's 2003 Home Entertainment Awards, earning more than $300 million during the period February-July 2003, for total gross domestic revenue of over $616 million, with additional contribution from foreign revenue of around 35% of that amount. "Greek Wedding" was nominated for Golden Globe awards in the categories "Best Musical or Comedy" and "Best Actress Musical or Comedy" (Nia Vardalos). The Producers Guild of America also nominated it for its Darryl Zanuck Producer of the Year Award in Theatrical Motion Pictures.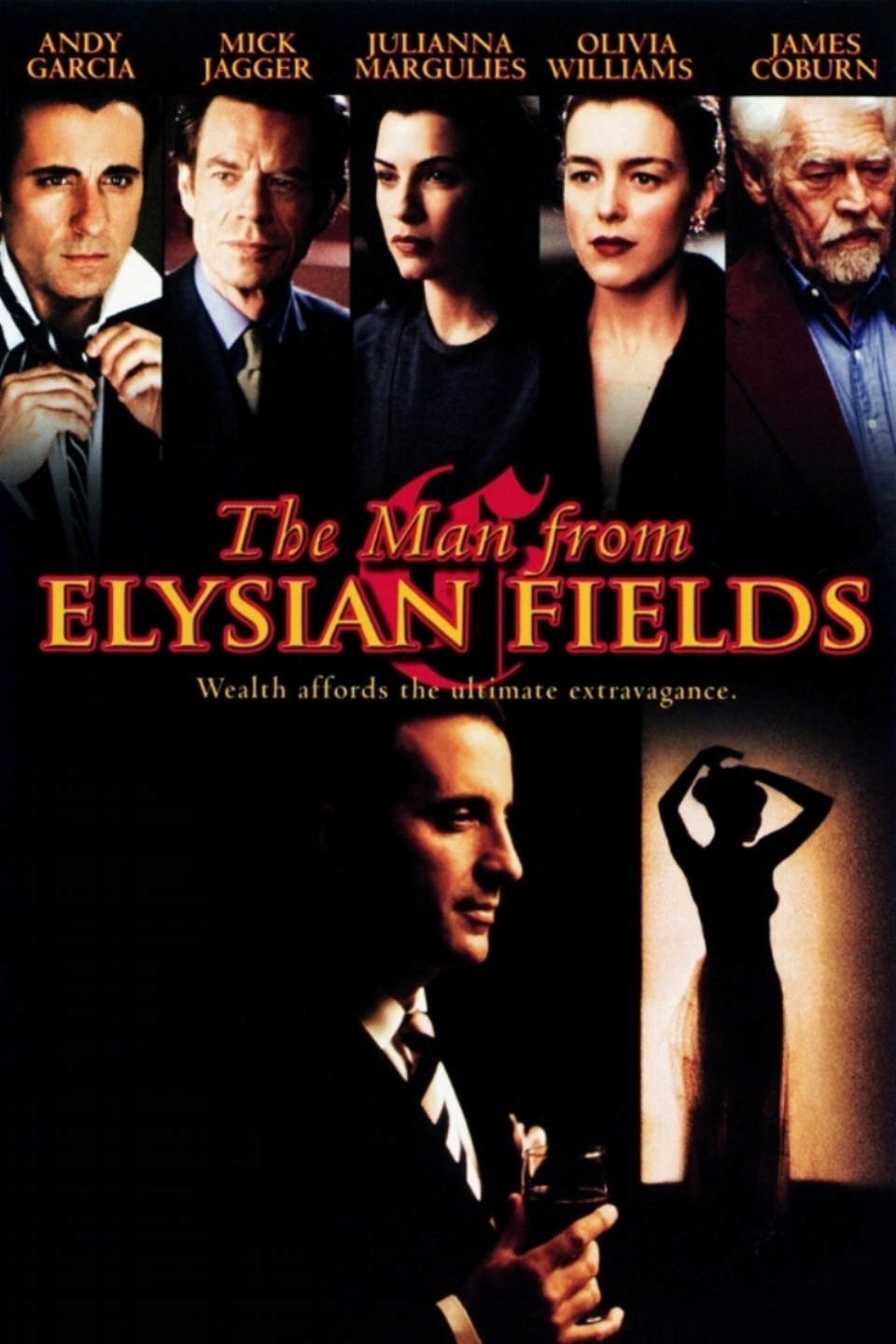 The Man From Elysian Fields
Also released as "The Escort," "Confissões de um Sedutor," and "L'Ultimo Gigolo." An elegant, sexy drama with comedy about a failed novelist who's desperate to support his adoring wife and baby daughter. He accepts an offer to join a discreet male escort service, Elysian Fields. His first assignment is a date with a beautiful young woman whose husband is an aging literary icon. Although they don't sleep together, she hires him again, and takes him back to her mansion. They make love this time, and are interrupted by her ailing husband, who is pleased that someone is taking care of her needs. The hero lies to his wife about the money he's earning, claiming it's an advance from his publisher. The old author decides to show his manuscript to the hero, who reads it and now sees it's a piece of shit. The wife agrees, and hires him to help her hubby rewrite the work so that it can stand as a great final testament to his art. Romantic, dramatic, and comedic complications ensue, but by story's end the unlikely gigolo learns his lessons, becomes a best-selling author in his own right, and retains the love and trust of his wife. Written by: Philip Jayson Lasker. Directed by: George Hickenlooper. Mr. Kronemyer assembled an ensemble cast starring: Andy Garcia, Julianna Marguiles, James Coburn, Mick Jagger, Olivia Williams, and Angelica Huston.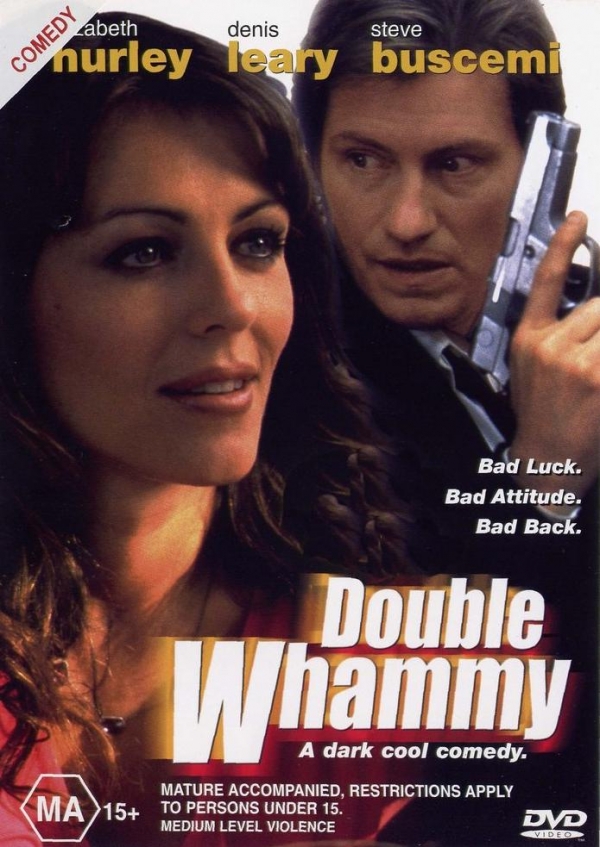 Also released as "Bad Luck" and "Double Trouble." A ballsy action-comedy-romance about a New York City cop who's standing at the ounter in a fast-food restaurant when a wacko enters and opens fire on the patrons with an automatic weapon. The cop draws his gun and spins to fire, but is incapacitated by back spasms. A young boy recovers his gun and takes out the shooter, making the cop the biggest loser in the history of the NYPD. Put on medical leave, he goes to a chiropractor, who turns out to be an elegant, beautiful woman. She helps him with his back problem and they begin an unlikely romance. He returns to the force and pursues a strange and very funny path to full redemption. Written and Directed by: Tom DiCillo. Starring: Denis Leary, Elizabeth Hurley, Steve Buscemi, Chris Noth, Luis Guzman. Premiered at the 2000 Sundance Film Festival, where it promptly sold for $1 million over its negative cost.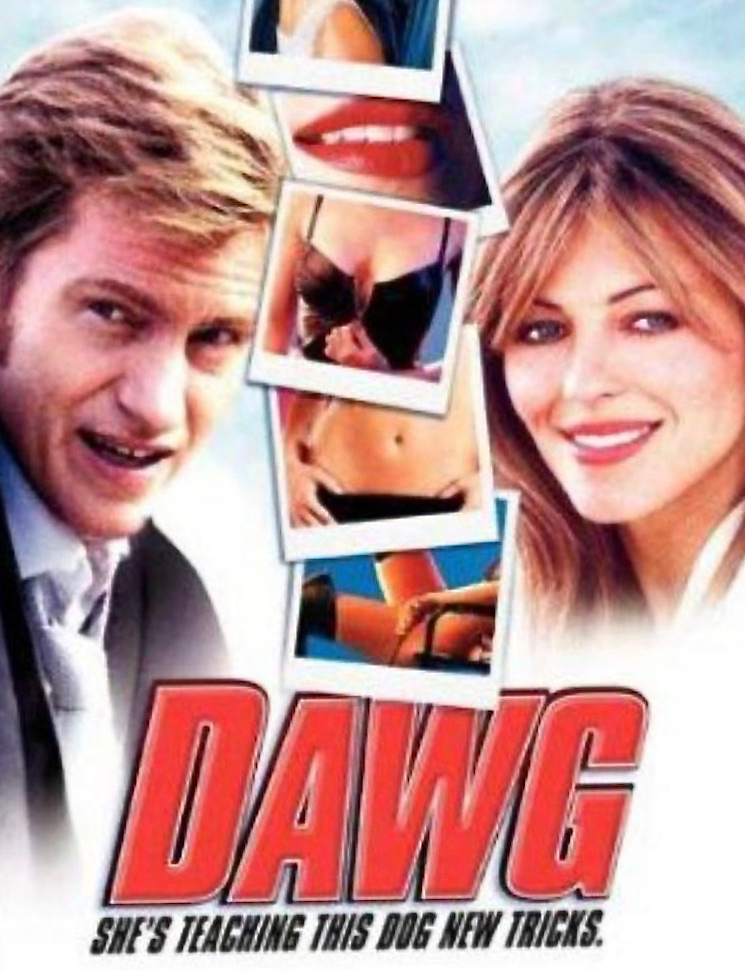 Also released as "Bad Boy" and "Money for Mercy." A battle-of-the-sexes comedy about a mid-thirties cocksman whose life is in shambles. A lifeline is thrown to him by a crappy early-thirties female attorney who represents his recently-deceased grandmother's estate. The old gal adored him but didn't approve of his life style. He can earn the million dollars she left him by getting twelve of the women he screwed over to utter those magic words: "I forgive you." It's a daunting task, complicated by the fact that the attorney, who similarly disapproves of his lifestyle, insists on accompanying Dawg to verify that he has fulfilled the terms of the will. The body of the story is their strange, funny road trip, which includes an evolving and unpredictable relationship between them. Written by: Ken Hastings. Directed by: Victoria Hochberg. Starring: Denis Leary, Elizabeth Hurley.
Also released as "Rat in the Can" and "Roads to Riches." A drama loosely inspired by "Midnight Cowboy." A handsome, incredibly charismatic young Texas cowboy arrives in L.A. to seek fame and fortune. He attends a game show taping and watches a savvy middle-aged guy almost win huge bucks, only to fail because his celebrity partner wasn't paying attention. The contestant screams at the star and punches out the host, then is thrown off the set by security. The cowboy is so impressed that he befriends the guy, who turns out to be a con man whose specialty is hustling game shows, but he also gambles and cheats. His accomplice is a beautiful but troubled young stripper who lives in his apartment building. The con man knows he can use the cowboy to score, but his plans are complicated when the cowboy falls in love with the stripper, not knowing that she's using him to try to make the con man jealous, and really loves the older guy. Written and Directed by: Michelle Gallagher. Starring: Robert Forster, Kip Pardue, Rose McGowan, Harry Hamlin.
A sexy thriller set in New Orleans. A crooked, middle-aged developer discovers that he only has a short time to live. He prepares to will his fortune to his beautiful, adoring young wife, then wonders if she really deserves it. In order to test her loyalty, he goes to his current construction site, befriends a great-looking young carpenter, and offers him $50,000 to sleep with her. The young guy refuses at first, but the developer engineers a meeting and once the hero sees the babe, he's hooked. He makes his play for her and she refuses; she really is loyal to her husband. But then the hubby's secretary tells her about the scheme and she becomes incensed, invites the carpenter back to her house, and sleeps with him. Unbeknownst to the lovers, the developer has had a surveillance expert wire the house and he knows. He confronts the carpenter and asks if he has anything to report. The young guy says "no." The husband hatches a nefarious plan to punish both of them. Written and directed by: Bill Bennett. Starring: Burt Reynolds, Saffron Burrow, Peter Facinelli.
A documentary chronicling and analyzing the phenomenon of pop artists influencing social causes by giving benefit concerts. It begins with the civil rights movement of the 1960s (Harry Belafonte, Joan Baez) then moves into protests against the Vietnam War (Country Joe McDonald, Crosby Stills Nash & Young). As performers became aware of their increasing power to express their political views through music and affect change, the scope of their interests became broader, including famous shows such as the Concert for Bangladesh (George Harrison, Ravi Shankar); the "No Nukes" Benefit (Jackson Browne); Farm Aid (Bob Dylan, Arlo Guthrie); Free Tibet (R.E.M., Rage Against the Machine); and Amnesty International (Sting, Peter Gabriel, Tracy Chapman). Other performers include: Woody Guthrie; Bono; U2; Bob Geldof; Buffy Sainte-Marie; Elton John; Melissa Etheridge; The Fugees; Bruce Cockburn; Phil Ochs; Bruce Springsteen; Bonnie Raitt; the Indigo Girls; Bob Marley; Pete Seeger; Peter Paul & Mary; Stevie Wonder; the Buffalo Springfield; the Grateful Dead; Phil Collins; the Doobie Brothers; and Garth Brooks. Written by: David Bender, Gary McGroarty, Allen Rucker. Directed by: Gary McGroarty, Todd Robinson, Scheftel.
In the midst of a squelching heat wave, Harry – a deranged psychopath obsessed with the escape artist Houdini – kidnaps the wife of a millionaire and buries her alive in a shallow grave. In his ransom note, Harry threatens to leave the woman buried if his outrageous demands are not met within 24 hours. With time running out, tough-as-nails New York Detective Madeline Foster must track down the criminally insane Harry and negotiate her own personal demons in a tense, psychological game of cat and mouse. Written and directed by: Richard Shepard. Starring: Adrien Brody, Maura Tierney.
A hard-edged drama about a 30-year-old Detroit pool hustler named Johnny. He grew up homeless in New Orleans but was a pool prodigy. He was "adopted" by a Fagin-like gambler named Joe, who could have sponsored him as a pro player but didn't, preferring to use him as a money-hustling machine. Johnny discovers Joe's betrayal early in the film, during a high-stakes match at a ghetto bar, where he finally breaks free of this dark presence in his life. Johnny swears off pool and takes up with a great upper-class woman, Tara, who's a recent law-school grad interning at a prestigious firm. Johnny is a carpenter on a construction site but he's not very good at it. His journey over the course of the film concentrates on his inability to hold a job, Tara's discomfort when he occasionally "falls off the wagon" and hustles pool, and Johnny's own profound dilemma – his only real gifts are as a pool hustler, yet it's a "dirty" life denounced by the woman he loves, and he's not sure he's got the right stuff to be a pro. Written and Directed by: Mars Callahan. Starring: Christopher Walken, Chazz Palminteri, Rick Schroeder, Mars Callahan.
Three 30ish single friends/roommates cope with a variety of crises. Pregnant Tanya learns that her boyfriend Tom has no intention of marrying her, Micki's fiance has just called off their wedding, and Jasmine's conservative parents are upset by their promiscuous daughter's approach to life. Stressed, the women decide to seek their fortunes in Vegas – preferably through some quickie marriages and even quickier divorces. Written by: Dana Lustig and Annette Goliti-Gutierrez. Directed by: Dana Lustig. Starring: Illeana Douglas, Paulina Porizkova, Julie Warner, John Corbett, Debbie Reynolds.
It is the story of a slightly round-in-the-middle ten-year-old boy named Mitch, more commonly referred to as Mess, who makes friends with a tree. While their conversations may be slightly one-sided, the boy finds great solace confiding to Old Oak about his lack of football expertise. He keenly feels these inadequacies because older brother Mark is quarterback on the school team. Of course spending all his spare time sitting in a tree
is not improving his popularity either. But life really looks bleak when his father, Henry Musser makes a real estate deal with a company looking to build a plastics factory. Considering everything in the small town of Wagstaff (except for Old Oak) has been shriveling up and dying since the loss of a major industry a few years earlier, this should be welcomed news. And it is for everyone except Mess, when he discovers the location of the plant will be on the lot where Old Oak sits. Certain he will lose the tree, Mess' sorrow turns into determination when he meets a former town resident and decorated war hero, who encourages him stand up for what he believes in. Written by: Paul Canterna. Directed by: Duane Clark. Starring: Robert Forster, Naomi Judd, Cliff Robertson, Andy Lawrence, Matt Lawrence.
After a tipsy one night stand, two New York neighbors seem to have nothing in common. He's an unnoticed plumber; she's an unproduced scriptwriter. But when the plumber pretends to be a film director to get himself noticed, the writer builds on his scam to get her script produced. Each thinks they are using the other to get what they want. To their surprise they end up discovering that what they may want ... is each other. Written by: John Walsh, Cynthia Caplan. Directed by: John Walsh. Starring: Martin Donovan, Mary-Louise Parker, Rebecca Gayheart.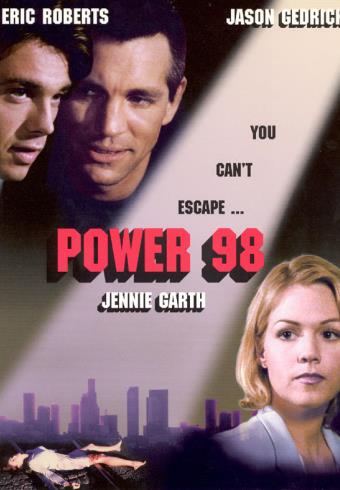 A controversial talk show host becomes involved in the murder of a beautiful woman in a war for ratings that becomes deadly. Karlin Pickett is a Los Angeles disc jockey who shocks his audience with outrageous stunts and crude jokes. Jon Price is a young disc jockey who joins the Karlin Pickett Show, but gets more then he bargained for when Pickett wants to offer him a new life with a new job. Jon's beautiful girlfriend, Sharon, wants her old life and her old boyfriend back, but the allure of fame and success begins to tear their life apart. When women start turning up dead and the alleged killer keeps calling the station, the ratings go through the roof and the cops begin looking for clues on Power 98. Out to catch a killer, Detective Dimotto follows a path of clues that leads to the chilling conclusion. In a shocking ending with plot twists and flying bullets, someone is going to pay for murder while the entire city listens. Written and Directed by: Jaimie Hellman. Starring: Eric Roberts, Jason Gedrick, Jennie Garth, Larry Drake, Lisa Thornhill.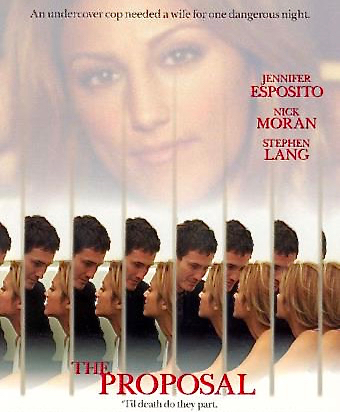 Terry Martin is the false name of an undercover cop posing as a fence to burrow into a gang run by Simon Bacig. After six months, Terry is closing in when Simon invites him to a party and tells him to bring his wife. His boss assigns him a rookie cop, Susan Reece, fresh from a data job in Kansas City. Terry wants her in and out the same night, but she wants a permanent assignment so she contrives to get Simon's attention. Terry must now pretend to live with her. Within a few days, the FBI warns Terry that Simon may have an informant within the police department, Terry discovers he really likes Susan, and he learns that she already knows Simon. Who's in danger from whom? Written by: Maurice Hurley. Directed by: Richard Gale. Starring: Nick Moran, Jennifer Esposito, Stephen Lang.
Three runaway girls hijack a car and begin the adventure of a lifetime … Life in a Detroit suburb is closing in on Zoe and her two friends, Sarah and Ally. They decide to skip class, skip town and head west following Zoe's obsession over her Native American heritage. The girls cross paths with the English woman Cecilia who's totally out of place on a mission to fulfill her mother's last request: to have her ashes scattered in a mysterious location in New Mexico. Zoe realizes that destiny has brought them together and the two embark upon a spiritual journey. Zoe comes quickly of age after getting lost in a daring, solo walk through the blazing desert. Written by: Deborah Attoinese, Amy Dawes. Directed by: Deborah Attoinese. Starring: Jenny Seagrove, Vanessa Zima, Gordon Tootoosis, Kim Greist.
A classic teen horror tale mixed with dark comedy. High school senior Brett Bumpers is a good kid but something of an outsider. His life changes when an anonymous "friend" sends him a peculiar preserved animal part (a totem) which supposedly grants three wishes. Although he's skeptical, he makes a cautious first wish (that his hottest classmate go to Spring Fling with him). She does, infuriating her jock-boyfriend. As Brett continues to pursue the babe, a mysterious and seemingly supernaturally-empowered killer begins to murder members of the senior class. Brett is disturbed when he becomes a suspect, and ultimately must use his final wish to defeat the villain. Written by: Larry Katz. Directed by: Richard Wenk. Starring: Michael Weston, Alexandra Holden, Austin Pendleton, Michael Aday (a/k/a "Meatloaf").
One moon-lit Los Angeles evening an odd assortment of outcasts walk into the life of Bail Bondsman Mo Potter and help save the life of Mo's six year-old son. Unknown to each other, each will find by the end of the eventful evening that they've learned something important about one of life's mysteries. Written by: Brandon Cole, Alexandre Rockwell. Directed by: Alexandre Rockwell. Starring: Steve Buscemi, Jennifer Beals.
While globetrotting for business, storeowner Dana (Victoria Foyt) arrives at the White Cliffs of Dover, where she meets the engaging English artist Sean (Stephen Dillane). There is an instant attraction between them, but Sean is married and Dana is engaged. Returning home, Dana and her fiancé, Alex (Michael Brandon), are invited to spend the weekend at a friend's home, and are joined by none other than Sean and his wife. The romance sufficiently rekindled, Dana and Sean face a serious quandary. Written and directed by: Henry Jaglom. Starring: Stephen Dillane, Victoria Foyt, Vanessa Redgrave.
A dark comedy about a depressed bank teller who is contemplating suicide when her bank is robbed. Bottle of booze in hand, she is inches away from jumping to her death when the heist goes awry and she finds herself face to face with the thief. Panicking with the law closing in, he asks for her help. She agrees to help him escape of he makes one promise - kill her later. And so begins a run for both their lives. Written by: Dana Lustig, Annette Goliti Gutierrez, Maria Ripoli. Directed by: Dana Lustig. Starring: Selma Blair, Max Beesley.
While stuck in Mexico City during a flight layover, American siblings Mitch (Stacy Edwards) and Sam (Johnny Zander) plan to hit the town and see the sights. But, the next morning, Sam is missing. Mitch doesn't make her flight and instead searches for her brother. She goes to the U.S. embassy for help, but receives none. Mitch has to go it alone searching for Sam, and as her quest continues finds herself becoming embroiled in the seedy world of drug dealers and corrupt government officials. Written and directed by: Richard Shepard. Starring: Stacy Edwards, Robert Patrick.
This comedy blends a romance centered upon mistaken identity with a satiric, insider's look at the film industry. Harold (played by Jeremy Piven) lives in Hollywood and earns his living driving a tour bus that makes the rounds of the homes of the stars. One day, Harold sees his favorite actress, Amanda Clark (Sherilyn Fenn), in a restaurant and impulsively introduces himself. Amanda, who was discussing screenwriters with her agent only moments before, is for some reason convinced Harold is a writer -- and Harold is too pleased to be talking with Amanda to correct her, especially when she suggests they meet to discuss an upcoming project. However, when Harold is assigned to rewrite a script Amanda is considering, Harold has to find a way to make his illusion a reality. Written by: Stan Williamson. Directed by: Andrew Gallerani. Starring: Sherilyn Fenn, Jeremy Piven.
*All text and images are the property of their respective owners. I served in various capacities on each of these projects, always in conjunction with other talented people.